obavezno neka (bilo koja) murakamijeva knjiga. i pitanje. da mi odgovori. onako uzgred. o čemu razmišlja dok trči po danu nalik ovom vetrovitom? i peljevin! kog vraga radi u budističkom manastiru dok pada kiša?da li bi došao kada bih ga pozvala na ovu nedelju mode?
//
necessarily a book (any) by murakami. and  a question. to be answered. casually, by the way. what is he thinking about while running on a windy day, like the one today? and pelevin! what the hell is he doing in a buddhist monastery while it's raining? would he come had i invited him to the forthcoming fashion week?
i lao ce. preko planine mogan (200 km od šangaja) 4d mapiranje njegovih mudrosti. da se vide iz aviona. i odande. sa onog sveta.
glava mi je kao košnica ovih dana.  kakofonija. a lepo me brian eno upućuje: "ne zidanje zida, već izrada cigle"/ "zaobilazne strategije". preko preče, naokolo bliže. zato zaobilazne strategije. da bi se stiglo.
zamišljam nedelju modu tamo daleko, u brdama i gorama, po vetru i kiši, daleko od instant-poznatih, bliceva, selfija, neophodnih, suvišnih… u miru. i skladu. da u prvom redu sede lame, čuvari kozjeg stada, proizvođači kašmira i berači čaja, posvećeni i zaljubljeni u lepo i dobro.  zephy lou & kian zhang iz old lyric / autumn sonata su glavni selektori te nedelje mode. jedini dozvoljeni video zapis bi smeo da radi abbas kiarostami. i barem dva dana morala bi (zbog scenografije i svežine posle) da pada kiša. tamo na dalekom istoku, na planini mogan… scenografiju bi radio shengxuan zhu.
kod njega bismo i odseli. i bili bismo pažljivi gosti… hodali bismo kao gejše, jedva čujno. i svi bismo se neusiljeno osmehivali.
//
and lao tze. 4d mapping of his wisdoms over the mogan mountain (200 km from shanghai). to be seen from the plane. and from over there. from the other world.
my had is like a bee hive these days. cacophony. and brian eno has been guiding me : 'not building a wall, but making a brick'/the oblique strategies.
i'm imagining a fashion week far away, in the mountains and valleys, in the wind and rain, far away from instant – celebrities, camera flashes, selfies, the unnecessary, over the top… in peace. and harmony.  lamas, goat shepherds, tea pickers sitting in the first row, in love with beauty and goodness. zephy lou & kian zhang from old lyric/ autumn sonata are the main selectors of that fashion week.  the only videa allowed  would have to be made by abbas kiarostami. and there would have to rain for at least two days (for the scenery and the freshness in the aftermath). there, in the far east, on the mogan mountain… scenography would be made by shengxuan zhu.
we would have stayed in his place too. and we would have been careful guests… we would have been walking as geisha's, soundlessly. and we would have smiled casually.
mogan mount, , zhejiang province, china
reviju šešira i kapa ateljea kreuzzzz bismo videli na otvaranju. započela bi napolju, a onda bi, uz pomoć onih koji imaju moć, pljusnula kiša. i abbas kiarostami bi uradio sjajan posao… on zna:
in the total darkness, poetry is still there, and it is there for you… 
 abbas kiarostami
//
the opening runway show would have been that of hat atelier kreuzzz. it would have begun outside, and then, with the help of those who have the power, the rain would start pouring…. and abbas kiarostami would have done a great job…he knows: in the total darkness, poetry is still there, and it is there for you… abbas kiarostami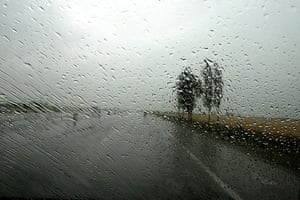 abbas kiarostami, rain, 2007
muzikу posle vetra i kiše dobijaju oni: david sylvian, brian eno i ryuichi sakamoto.
prostor i vreme između kreuzzz-a i kraja prepuštam, sa puno poverenja, zephy i kian, ali na kraju moraju biti junya watanabe, comme des garçons i yohji yamamoto. 
//
the music after the rain and wind i leave to them: david sylvian, brian eno and ryuchi sakamoto.
time and space between the kreuzzz and the end i leave, with much confidence to zephy and kian, but in the end there has to be junyaa watanabe, comme des garçons and yohji yamamoto.
junya watanabe, comme des garçons & yohji yamamoto. 
dame i gospodo, drugovi i drugarice, koze, ovse, psi, berači čaji, viktore peljevinu and co. bio bi to mount mogan fashion week.
//
ladies and gentleman, comrades, goats, sheep, dogs, tea pickers, victor pelevin and co. it would have been mount mogan fashion week.