priča već zvuči poznato: yirantian guo (郭一然天) rođena i odrasla u kini (1991), studirala u londonu. imam utisak da gotovi svi najbolji kineski modni dizajneri se školuju u londonu. jasno je i zašto. tamo su najbolje škole. a posle školovanja, treba odabrati svoj put… kada dolaziš  iz zemlje koja je tako mnogoljudna zasigurno je teže razviti i sačuvati svoju individualnost. i forsirati upravo to: individualnost, kreativnost, igru, traganje za novim konstrukcijama kroz dekonstrukciju, dekonstrukciju postojećeg, ući u istraživanje koje nikada ne prestaje… ne ići utabanim stazama, već pronaći svoj put stavljanjem postojećih elemenata u nove odnose, jer elementi su znani, tu su oduvek…. jedna od njenih prvih kreacija se i zvala "un" (unconventional combinations). za tu kolekciju inspiraciju je našla u kubizmu, ali kaže da je inspiriše sve oko nje. jer, znaš:
yirantian guo ima svoj brand "yirantian", dizajnira odeću i nakit i evo ovde možeš da pogledaš šta ona radi:
ovo je ona:
keywords:  

deconstruction, abstraction and modernism. 
iz kine dolazi i renLi su. i sličan životni put. nakon osnovnih studija u pekingu londonsko školovanje – london college of fashion. i poput ostalih najboljih mladih kineskih dizajnera modele i yuangtian guo i renli su možeš u pekingu i šangaju naći u dong liang studiju… ali, jedna drugačija priča. prirodni, ručno rađeni materijali… jedna nostalgična priča koja bi te pre navela da pomisliš na njeno hrišćansko, englesko, a ne kinesko poreklo. na prvi pogled…
na njenom sajtu stoji ovo:
time & memory

in 17ss, creative director renli su inspired by multiple mythical stories about the ocean and angels of bravery.  the first story is from christian mythological stories. according to christian angelic hierarchy, virtues are said to be the chief bestowers of grace and valor. like a guiding light for humans feeling lost and dejected, they watch over nature and encourage humans. the second story is about lin moniang, which is the human name of ma-tsu, the chinese patron goddess hailing from renli's hometown of fujian province in china. she was a goddess who was said to protect seafarers and fishermen out at sea.  these mythological stories have a common thread of inspiration and hope when times are tough, and this was a focal point of renli's exploration.  ​
"i like humble, quiet, subtle things,i  like to transfer it to the collection: i believe people can feel it." (renLi su)
keywords:

handmade, organic, comfort, simplicity and beauty
gore i dole njena kolekcija s/s 2014
ona je u sredini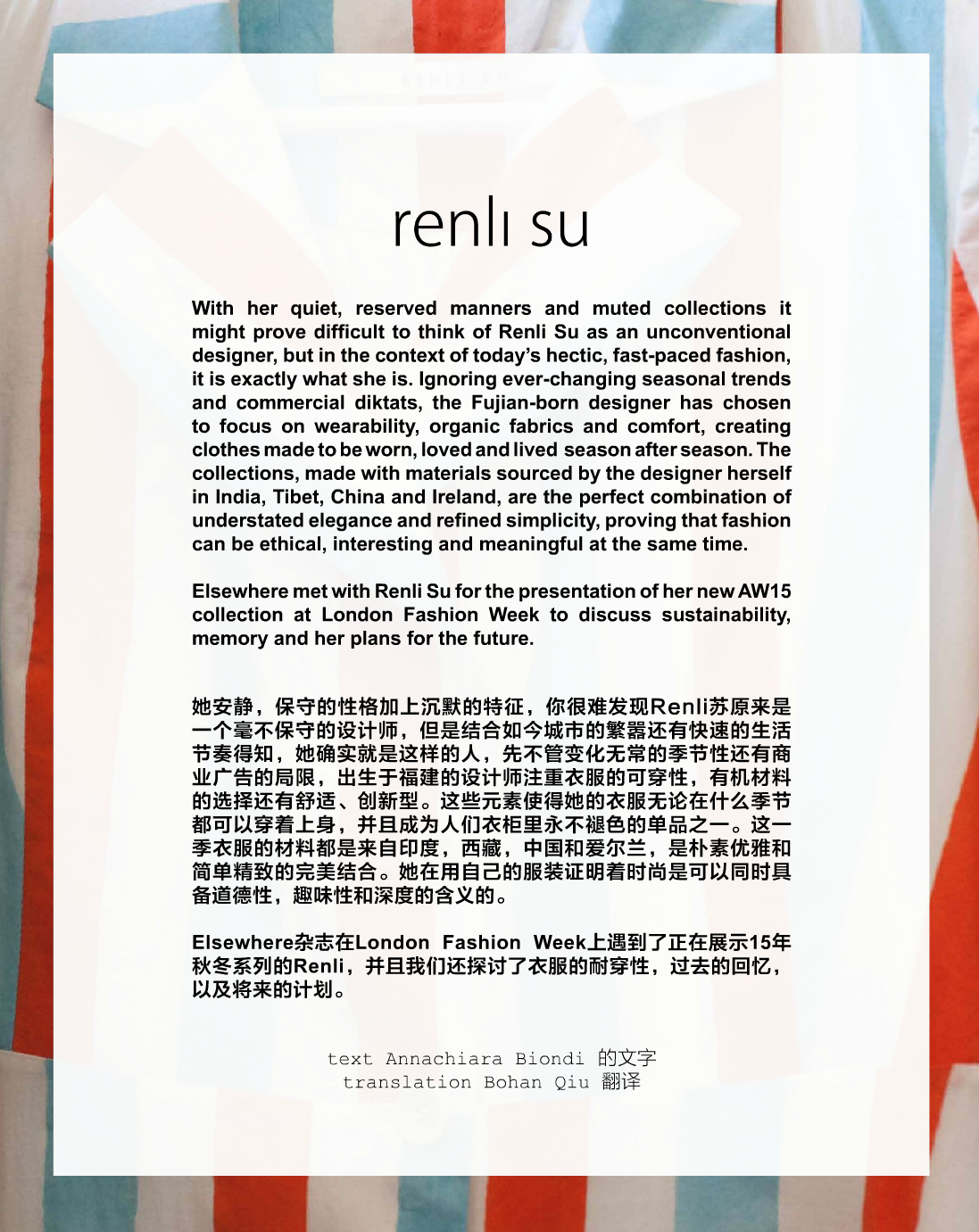 when i was little i spent a lot of time with my grandparents and it was lovely. especially my granddad who is skilled with traditional chinese instruments and in calligraphy. watching them influenced the way i see eastern culture. the town where i grew up is also heavily influenced by buddhism, so there are many local craft places that produce the outerwear and embroidery for the religion. that has always inspired me. i often visit those hand-crafted places that remind me of home when i'm abroad. (renli su)
ipak, u njenoj  najnovijoj kolekciji (a/w 2017) čitamo jasno kinesku priču.
taking inspiration for her new collection from her roots, renLi su's thoughts returned to her small seaside hometown in china's fujian province and specifically to the sea; it's changing shapes, patterns and colours. now based in london, she seeks solace and inspiration in nature, finding it a useful bridge to overcome homesickness and cultural difference as a chinese designer in the west.

(renli su)
a ovo je to mesto gde možeš ako si u pekingu ili šangaju da nađeš i ove dve mlade kreatorke koje žive i rade između kine i londona – dong liang studio. samo kratko za prvo predstavljanje. tek da stekneš prvu sliku o ovom magičnom mestu. ja bih volela i da ga lično vidim. na obe adrese.
what is DONGLIANG? the answer may vary for different people. to designers, it is a buyer shop. to customers, it is a multi-brand store. it has been almost five years since we launched the first DONGLIANG store in beijing in august, 2009. DONGLIANG started off together with chinese fashion industry and grew up with the local fashion forces.  (dongliang studio)
imaju i svoj magazin, crow magazine. i blog!
znaš, tamo se svašta dešava, ne samo prodaja garderobe i revije, nego i  (kvalitetne) izložbe, koncerti, promocije knjiga, umetnika, programa…
npr.
"silence of 4'33". "

this mini exhibition is inspired by JOHN CAGE's creation in 1952. we poured the three concrete cube, hand-made the exhibition poster, set the lights… we hope this delicate musical philosophy can be converted into a visual presentation.
DONGLIANG BEIJING Doingliang Studio
No.102, 2-BUILDING, CENTRAL PARK, No.6, CHAOWAI STREET,
CHAOYANG DISTRICT, BEIJING
DONGLIANG SHANGHAI
No.184, FUMIN ROAD, JING'AN DISTRICT, SHANGHAI
na pitanje šta je za nju moda, tasha liu, suosnivač dong liang studija kaže:
a way to find your own identity and individuality.
***
i laku noć…