opet je pretoplo i o5 mi je, i pored svega, ostanak u stanu bolja solucija, nego da se kuvam napolju. dovezem se sa posla na svom konju vranom (aka biciklu), odradim popodnevnu siestu i onda putujem. sajber prostorima. kuda god mi duša zaželi. od azorskih ostrva (u znak sećanja na vladimira majakovskog, dan uoči njegovog rođendana) do jednog prelepog apartmana na east village, nyc adresi.
ja sam se rodio, sisao isprva
živeo, radio, i starost ce doći…
evo, i život kao azorska ostrva će proći.

(vladimir majakovski (19. jul 1893-14. april 1930) , plitka poezija na dubokim mestima)
majakovski, portret koji je napravio rodčenko 1924.
u new yorku je cleo wade i njen dom. poseban i ljubak kao što je i ona. i njeni stihovi koje piše na smith corona pisaćoj mašini pastelno roze boje! svoju poeziju objavljuje na instagramu i na zidovima. virtuelnim i pravim pravcatim. ona je i likovna umetnica. i feministkinja. i društveno odgovorna i angažovana osoba koja na različite načine podržava i bodri one čiji se glas ne čuje. a ni moda joj nije strana, zapravo radi se o njenom stilu. i jasno je da ga takve osobe imaju. i model je, ali i saradnik modnih magazina. i stilista. u upravi je the national black theatre u new yorku, tačnije u harlemu. poznata je po art instalacijama sa porukama, poput one ogromne 2015. u new orleansu koja se zvala "respect". to je, u stvari, emotivno ljubavno pismo njenom rodnom gradu new orleansu, deset godina nakon što je uragan katrina potopio gotovo 80% ovog grada i odneo skoro 2000 ljudskih života. na  billboardu u istorijskoj, francuskoj četvrti stoje njeni stihovi.
a na internetu njena adresa je: www.cleowade.com
cleo:  i called that poem respect because when you really look into the definition of respect, it means to have deep admiration for what someone has been through.
photo marianna massey, modna saradnja koju je cleo imala sa zero + maria cornejo's resort '17 capsule collection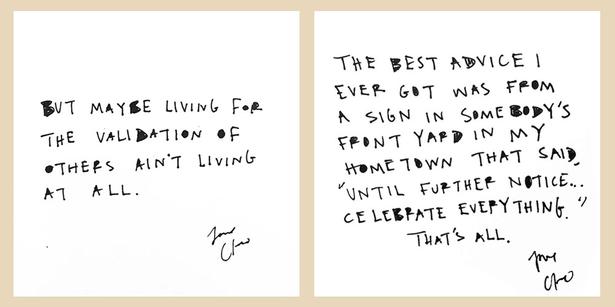 cleo o sebi kaže:  "i describe myself as a maker. i get up every morning and try to make things. sometimes it's on paper, and sometimes it's on a wall. every day i have the intention of building community with others through creating" 
c l e o  w a d e
"the best thing about girl power is that over time it turns into woman power."
cleo wade: 'i think that whenever we are able to allow art to be a form of storytelling that shares the beauty, fragility, vulnerability and power of our humanity, then we are doing a public service. when you share your truths and your stories, you give other people permission to do the same. we have so much more power to see each other and free each other than we think. i just try to focus every day on storytelling.'
a ovako je vidi vogue:
"on a humid saturday last summer, a young woman with a halo of curls put on a white cotton dress and set up a booth at the hester street fair in downtown manhattan. she wasn't selling artisanal jerky or hand-painted pottery — what she had on offer instead, as advertised by a bright-blue sign propped against a vase of yellow flowers, was "peaceful and loving conversation." a banner above her head read ARE YOU OK? "honestly, it was inspired by lucy from peanuts," recalls cleo wade. "she's an icon."

— new york times